OL09 - THE MODERN CALLIGRAPHIC BRUSH con Carl Rohrs (english)
Intermedio Avanzato a Casa tua.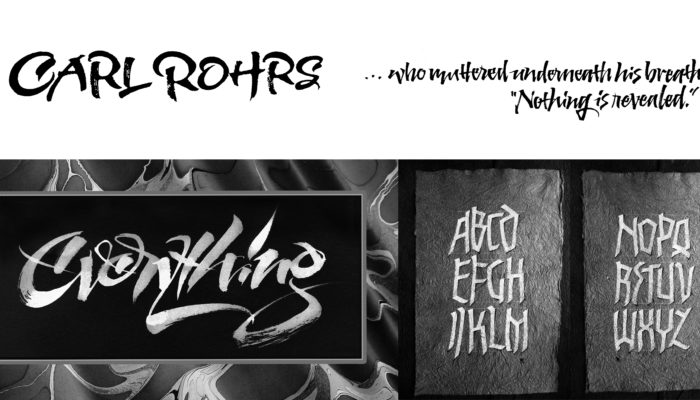 Online workshop of intermediate/advanced level in English language with no translation.
The objective is to reach brush-lettering nirvana. To submerge ourselves in the qualities of lettering that really reflect the characteristics of the tool: texture that the pen obliterates; flow and control that the pen can only dream about; voluptuousness of stroke that the pen lusts after. To really go after the full potential of both flat and pointed brushes.
Mystery and surprise. There is a Chinese saying: "The brush is more than we thought it should be."
Brush exploration and diligence will reward you beyond the expectations you have of it. Brushes are fabulously fluid tools and there is no reason that the letters you write with them shouldn't look that way as well. So we will not only learn how to handle the brush to make the letters we already know (plus many new ones), but we'll make them look like they were made with the brush. With a flat brush that means a new world of texture and control unsurpassed, modern tricks and stroke-width modulation. With a pointed brush we will have stroke shape that a pen can't even think about. We'll start with the bedrock of pointed brush lettering — perpendicular strokes — but we'll definitely go on beyond that flat headed mark to the sharp, swelling and feathery beauty of parallel strokes with vertical pressure— the key to making your lettering look LIKE its tool and UNLIKE any other kind of calligraphy. An eye-opening introduction for the brush novice, and a leap and deepening of understanding for the brush-experienced. Tools, paper, media, color, technique and a little philosophy.
The 2022 version of this class will include new focus on a lighter touch, longer texts and new, unusual sources of inspiration.
Participation is subjected to availability: please refer to Chiara Riva (chiara.riva.aci@gmail.com) for any information.
Iscrizioni terminate (

18 Settembre 2022

)
Costo iscrizione: 150€
I docenti
Carl Rohrs has been a lettering artist and signpainter in Santa Cruz, California since 1977, an instructor of Lettering & Typography...
Continua